August 12, 2015 9:52 pm | Category: Uncategorized

Not everyone is perfect, and that includes marketers. Most of the time you are able to sweep it under the rug and continue on with your life, but what happens when you're a multimillion dollar company and the mistakes cost serious money?
In this post, we delve into our top 5 marketing mishaps from many popular brands. Keep reading to see some mistakes you probably should go out of your way to not repeat.
1. Pepsi's Number Fever
Pepsi was fighting a losing battle with Coke in the early 90's in foreign markets. In an attempt to broaden their brand in the Asian market, Pepsi's Filipino branch did the classic marketing scheme of having a chance to win money in every bottle, 1 million pesos to be exact. The marketing plan was called "Number Fever" and you won by finding a bottle cap with the correct code on the inside. The plan itself seems pretty fail-safe, nothing controversial, nothing that could really provide any backlash. The campaign actually worked at the beginning increasing their sales by almost 40% in the Philippines, and by the time everything wrapped up it was estimated that half the Phillipines had participated in "Number Fever". The only problem was the winning number, number 349, was printed on 800,000 of their bottle caps by accident. When people came to collect their winnings, Pepsi naturally backed out, and riots ensued.

2. Hoover Free Flights
The Hoover free flights promotion was a campaign that began in 1992. The Hoover Company was carrying a large surplus of product and in order to sell them and free up warehouse space, they offered plane tickets to customers who purchased more than £100 worth of its products. However, the backlash happened when people realized it's a lot cheaper to buy £100 worth of product, then a plane ticket that costs three times as much. The offer started just being within Europe, but when then they increased the promotion to include the United States . At this point the customer response went way up, and the Hoover Company subsequently found itself overwhelmed by the demand both for tickets and for actual stock. Hoover naturally had not really thought this one through and it ended up costing the company 50 million dollars!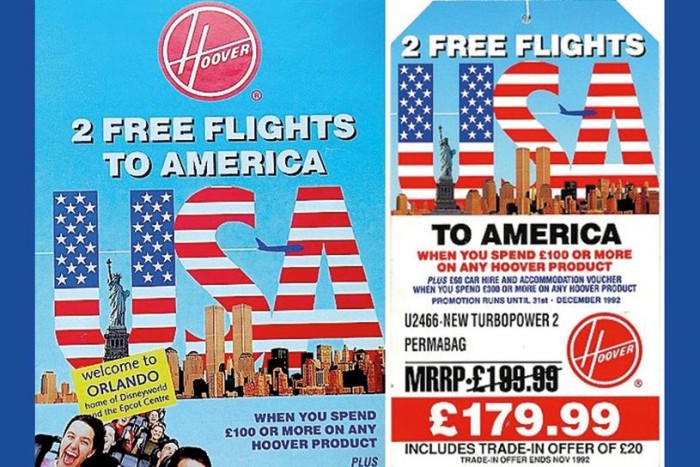 3. McDonalds Olympic Competition
This one is a marketing mishap that goes way back to 1984, when McDonald's started "If the U.S. wins, you win!" promotion under which they promised to give free burger, snack, and drinks for every medal the US wins. The only hitch was the usual countries that would be big contestants for them, mainly Germany and Russia, were sitting out of this particular event. The lower number of contestants meant that it was a lot easier to get medals for US. That year, 178 medals came to the US, 83 of which were gold. McDonald's realized that their campaign didn't work out exactly how they wanted it too, and did a huge financial damage to the brand.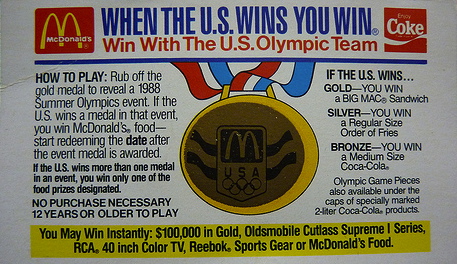 4. KFC's Oprah Giveaway
Oprah is known for giving things away, so when KFC came to contact her to help them with a give-away nobody batted an eye. The promotion was that KFC would give viewers a free coupon for a 2-piece chicken meal with two individual sides and a biscuit. All you had to do was download the coupon from the Oprah website. Oprah, being a very popular TV show, allowed for the promotion to gain tons of traction, traction to a promotion that didn't seem like a great idea to begin with. KFC felt their mistake when millions of people downloaded 10.5 million coupons, and clamored to KFC to receive their free meal across the country. KFC gave away almost $42 million worth of free food, still couldn't deliver what it had offered, and it even led to mini-riots. KFC had to apologize to Oprah and the customers for their folly!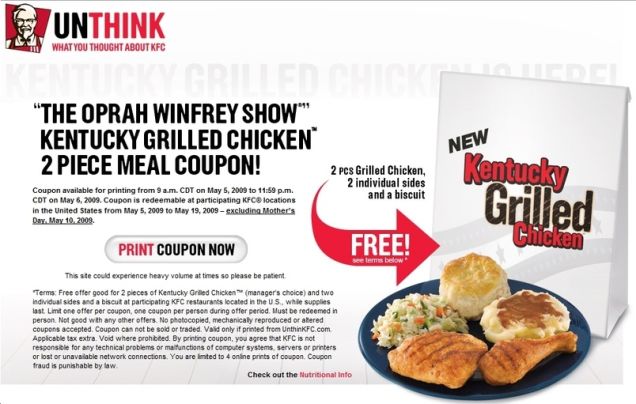 5. Silo's 299 Bananas
Silo, a popular electronic store in the United States that was a big contender from 1947 to 1995, made news with a huge marketing mishap in 1986. Their campaign promoted their upcoming radio with a slogan the "Silo Is Coming" for 299 bananas. They were using the term "bananas" as a way to say 299 dollars for each, but the company had no idea that the people in Seattle and in El Paso would take it for face value. People stormed the locations with bundles of 299 bananas, and the stores had to accept the bananas for 35 sets. The cost of 299 bananas was around $40, a lot less than the advertised cost of $299. It cost a loss of over $10, 1000 to a single store.